about 330 km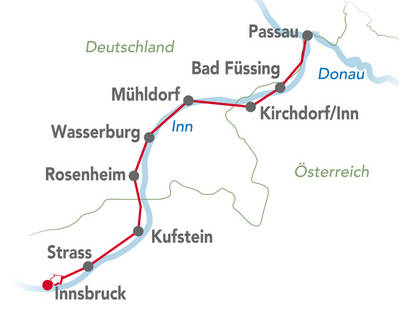 The Inn Valley Cycle Path follows the course of the Inn for 530 km and leads across the Alps from Switzerland via Austria to Germany. The Inn is the most water-rich tributary of the Danube and has its source at the Majolapass at 1.800 m, which is where the Inntal Cycle Path begins. You get to Pfunds in Austria via St. Moritz, Zernez, Guarda and Scuol. From there the route of the Inntal cycle path continues to Landeck am Arlberg and Imst to the Tyrolean capital Innsbruck. Visit the city's landmark, the Golden Roof in the old town. The cycle route of the Inn Valley Cycle Path continues along the Inn Valley to Kufstein, where the valley widens and you cross the German-Austrian border.
In Germany the cycle route of the Inntal cycle path leads through Rosenheim in the Chiemsee region, Wasserburg and Mühldorf back to Austria in the Upper Austrian Innviertel. After the confluence of the Salzach in the Inn, the bike route corresponds to the route of the Tauern cycle path. The destination of the Inn Valley Cycle Path is the three-river city of Passau in Bavaria.
The individual stages of the Inntal Cycle Path mostly run on paved paths near the river. These are partly gravel and unpaved forest paths, but also small side roads and main roads with little traffic. Most of the Inn Valley Cycle Path is easy to navigate. From Tyrol the route runs slightly downhill.
Numerous cities and towns worth seeing such as St. Moritz, Innsbruck, Wasserburg and Passau are located along the cycle route of the Inntal cycle path. It is definitely worth taking a breather to take advantage of the gastronomic offer on the bike path and to discover the various sights.
The bike tour in our Cycling Offer leads along the Inn Valley Cycle Path downriver from Innsbruck to Passau.
THESE CYCLING TOURS COULD
YOU ARE INTERESTED IN