STAR CYCLING TOURS HOCHSTEIERMARK
Cycling with pleasure: culture and cuisine in the mountains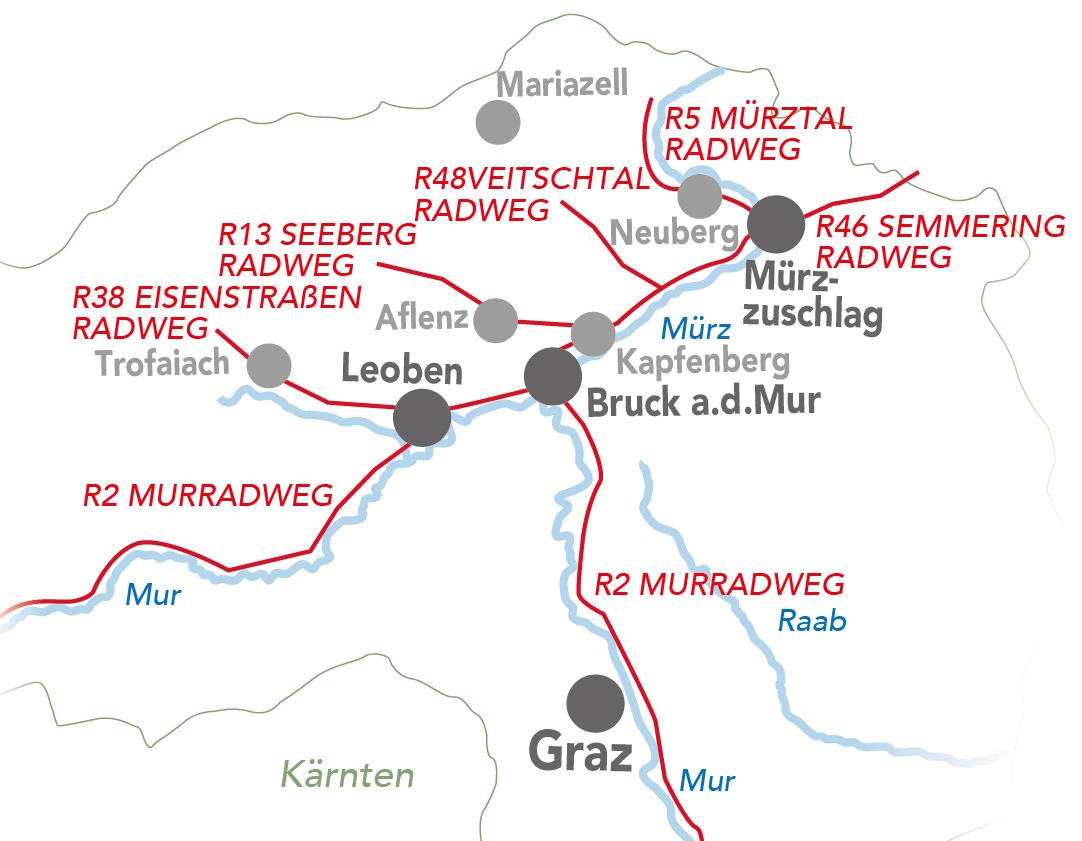 From the (e) bike pleasure tour to the
Family river bike tour
Whether on the e-bike, mountain bike or trekking bike - the travel pace in HOCHsteiermark is fully geared towards enjoyment. The HOCHsteiermark offers varied, well-developed bike paths with (E) -bike rental stations, bike-friendly businesses, charming bike guides and real natural doping with the best regional cuisine right across the region. The holiday region HOCHsteiermark is located in the northeast of Styria and stretches from Styrian Semmering over the Hochschwab area to the Eisenerzer Alps. It is characterized by mountainous and imposing mountain ranges, refreshing springs, gentle alpine pastures and green forests. Thanks to the wide network of cycle paths, HOCHsteiermark is predestined for star tours, where you can explore the surrounding area by cycling from a hotel on day trips.
Cycle in inspiring nature.
Away from the daily hustle and bustle and out into the beautiful, spacious nature! In the Mürzer Oberland nature park, leisure cyclists will find everything their hearts desire. The way up is leisurely via the Schneealm toll road and when you arrive at the alpine plateau, it's time to enjoy the view, cycle from alpine hut to alpine hut and indulge in culinary delights with game specialties, sweet Windberg creations and organic alpine cheese.
Cycle from city to city.
From the SÜDBAHN Museum in Mürzzuschlag, the Peter Rosegger memorials above the Oberkapfenberg Castle, the Brucker Schlossberg to the Gösser beer capital in Leoben, the gateway to the "Styrian Iron Road". River cycling along the Mürz (R5) and Mur (R2) is just the thing for those who want to combine the cool water with culture and the city. Take a deep breath and recharge your batteries in the village inns and cafes in small towns such as Langenwang, Krieglach, Kindberg and Kapfenberg as well as Bruck an der Mur.
In Leoben, the main square awaits cyclists with a particularly large number of small street cafes and refreshment stops. Tip: Find out more about culture, traditions and customs with the Leoben Culture Bike Guide! Family and leisure cyclists particularly appreciate the Mürz and Mur cycle path (R5 / R2). The two river cycle paths are mostly gently sloping and are among the most varied river cycle paths in the Alpine region with many culinary and cultural destinations.
Further information: www.hochsteiermark.at
THESE CYCLING TOURS COULD
YOU ARE INTERESTED IN