THE ETSCHRADWEG
From the Tyrolean mountains to Verona

about 330 km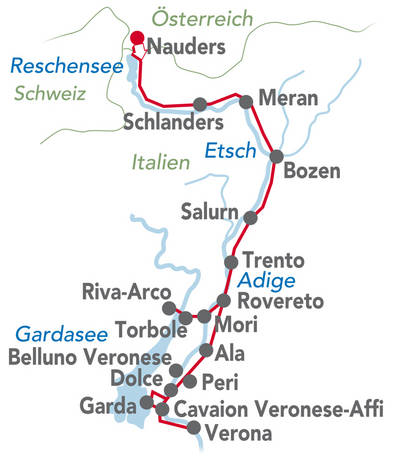 The Etsch (Adige in Italian) is the longest river in South Tyrol and has its source in the Ötztal Alps near the Austrian-Italian border. Before the Adige flows into the Adriatic, it flows through the Vinschgau, the Meraner Land, the southern part of South Tyrol and the Trentino to Verona.
You can experience the most beautiful section of the Adige between Reschen and Verona on the Adige Cycle Path. The approximately 345 km long Adige Valley Cycle Path starts in Nauders in Tyrol and leads over the Reschenpass past Lake Garda to Verona, the city of Romeo and Juliet. Verona is a popular travel destination due to numerous historical sights and attractions, especially the opera performances in the world-famous arena.
Except for the Reschenpass at the beginning of the route (150 meters above sea level from Nauders), the Etsch cycle path runs continuously downhill towards the south. The first highlight is the picturesque Reschensee, which you should bypass on the left to get a glimpse of the famous church tower jutting out of the water. Most of the cycle route of the Adige Cycle Path runs directly on the river and passes beautiful orchards and vineyards. In addition to Verona, the spa towns of Merano and Bozen as well as Trento and Rovereto are worth seeing towns with numerous sights along the cycle route.
The unique combination of breathtaking landscapes and unique cultural assets make the Etschtal Cycle Path a special experience. The individual stages are for the most part well developed and paved and can be driven comfortably.
A particularly natural jewel, the wonderful Lake Garda, is only a few kilometers away from the Adige and can easily be included in a bike tour. Österreich Radreisen offers the highlights of the Adige Cycle Path with 2 different bike tours: The classic bike tour from Nauders to Verona for culture lovers and the variation of Nauders to Acro on Lake Garda.
THESE MIGHT TRAVEL
YOU ARE INTERESTED IN