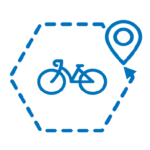 ALPE-ADRIA CYCLING TOUR 1nd PART
from Salzburg to Villach

205 km
DESCRIPTION:
The cross-border Ciclovia Alpe-Adria cycle path is an unforgettable experience. The first part of the bike tour leads from the Mozart city of Salzburg to the south side of the Alps to Villach. From Salzburg it goes along the Salzach on the Tauern cycle path via Bischofshofen through the wonderful Salzburg mountains into the Gastein Valley with the famous spa town of Bad Gastein. There you board the train and you can easily cross the Alps by train in just a few minutes.
When you arrive in Mallnitz in the middle of the Carinthian Hohe Tauern National Park you can enjoy breathtaking views of Austria's highest mountains. Now you cycle continuously downwards and soon you will reach the Drau cycle path. We continue to Villach, whose lively old town exudes southern flair.
SERVICES:
5 nights in selected bike hotels and inns in the 3 * star category
Breakfast buffet or rich breakfast
Daily luggage transfer from hotel to hotel (1 piece of luggage per person, max. 20 kg)
Train journey Gasteiner Tal - Mallnitz including bike
Bike maps and information material, GPS tracks
Service hotline (7 days a week)
GETTING THERE:
Individual arrival to Salzburg, every Saturday, Sunday, Tuesday, from 01.05. until 30.09.2022, from at least 2 people.
With a minimum of 4 participants, special dates are possible.
Event notice
During the major events Villacher Kirchtag (31.07.-07.08.2022) and European Bike Week (06.09.-11.09.2022) rooms in Villach can only be booked at an additional cost.
PRICE:
Category:
Bike hotels and inns 3 * star category
€ 549, - per person
01.05. to 30.06.2022
01.09. to 30.09.2022
€ 599, - per person
01.07. to 31.08.2022
EXTRAS:
Single room surcharge: € 120 VS / LS / € 150 HS per person
Half board: € 120 per person
RENTAL BIKES
Touring bike: € 80, -
E-bike: € 130, -
Return transfer:
Villach - Salzburg: by train including bike approx. € 45, please reserve in advance
Local tax, if due, is not included in the tour price.
Extension of the tour to Grado or Bled possible on request
Getting there
Individual arrival in Salzburg and check-in at the hotel. If you arrive earlier, we recommend visiting the old town and the surrounding area by bike (Salzburg has excellent bike paths).
Salzburg - Bischofshofen / St. Johann i. Pongau, approx. 53 km
The first stage takes you on the Tauern Cycle Path along the Salzach via Hallein and Golling to the Lueg Pass, where an inn invites you to take a break. In Werfen, passing the mighty Hohenwerfen Fortress, it is worth taking a detour to the fascinating Eisriesenwelt, the largest ice cave in the world. In St. Johann im Pongau, the roaring Liechtenstein Gorge is impressive.
.
Bischofshofen / St. Johann i. Pongau - Mallnitz, approx. 53 km
Passing Schwarzach, you branch off into the Gastein Valley, where you have to tackle some inclines (440 meters in altitude). Afterwards, treat yourself to an extensive rest and visit the well-known spa town of Bad Gastein before boarding the train in Böckstein and comfortably crossing the Alps. Alternatively, you can use the train from Schwarzach or Bad Hofgastein. When you arrive in Mallnitz in Carinthia, you can enjoy breathtaking views of Austria's highest mountains.
Mallnitz - Mühldorf / Sachsenburg, approx. 30 km
At a brisk ride you cycle through the wonderful mountains of the southern Tauern downhill to Obervellach and on the Mölltal cycle path further downstream to your today's destination - Mühldorf or Sachsenburg, where you reach the Drau cycle path.
Mühldorf / Sachsenburg - Villach, approx. 55 km
Today you cycle comfortably on the mostly natural bank on the Drau Cycle Path to your destination Villach, the city with the southern flair. The Teurnia Roman Museum in Lendorf and Porcia Castle in Spittal an der Drau, which is considered the most beautiful Renaissance building in Austria, are worth a stopover.
Departure or extension to Grado
Individual journey home or return by train (ticket not included in the price). Possibility of extension to Grado or Trieste (Italy) or Bled (Slovenia).